Thank you for your incredible support of the 19th Annual Empty Bowl Fundraiser!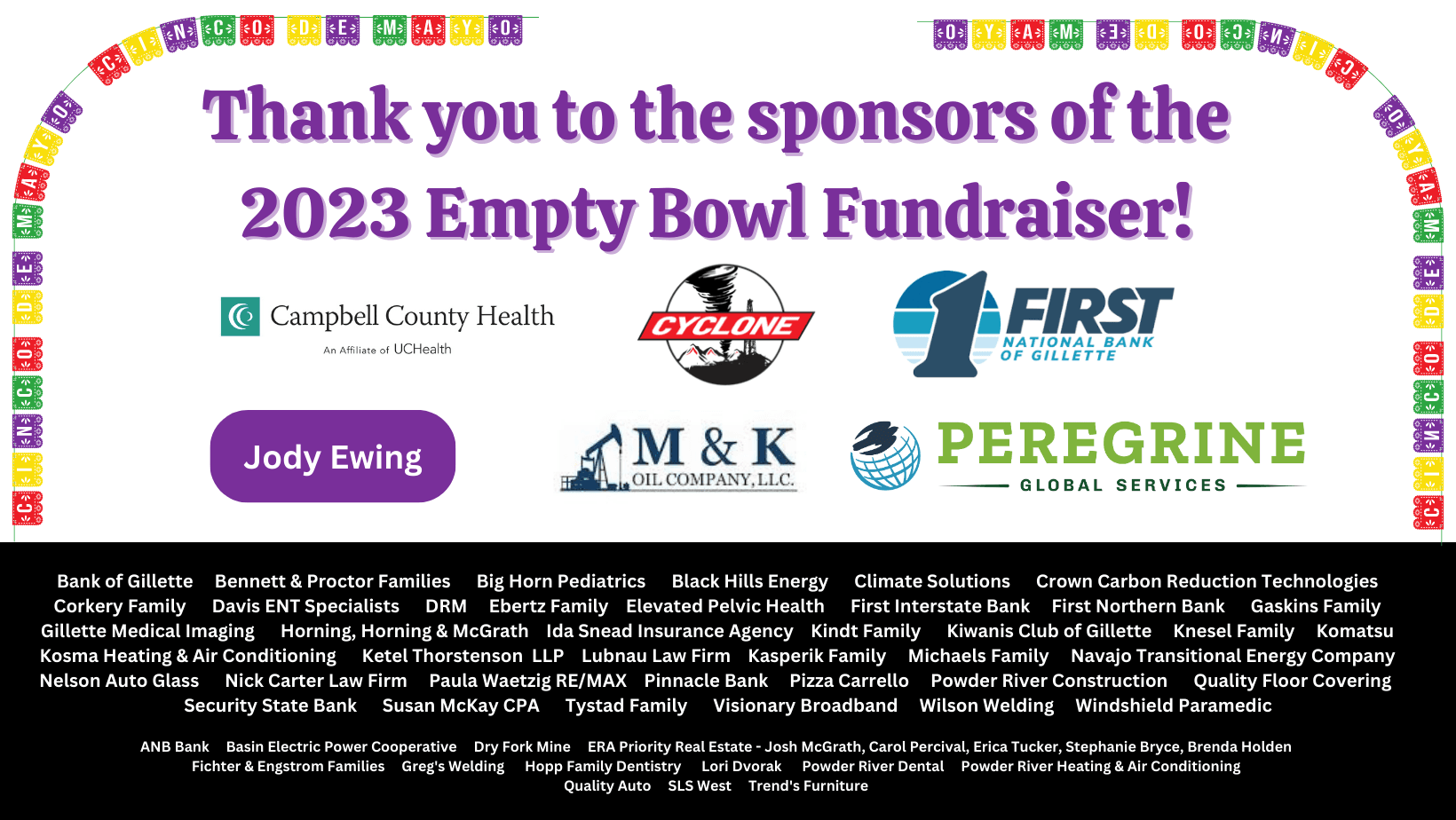 From the bottom of our hearts, thank you to everyone involved in making this years' Empty Bowl Fundraiser the most successful and exciting night in Council history! We couldn't imagine doing anything that we do without the support of the amazing community members like you. In fact, it would not be possible to have served low-income families in Campbell County for over 50 years. Thank you for being the backbone of this community and we simply cannot thank you enough.
Please take a moment to look at all the incredible sponsors that supported this night and thousands of low-income people in Gillette. In addition to our amazing sponsors, we would like to give another thank you to:
Paul & Christy Gerrits
Peregrine Global Services
Brian & Nikki Worthen
Jerry Tystad
Eric & Kelly Barlow
Bob & Tonja Cale
Empty Bowl Committee: Lori Dvorak, Crystal Fichter, Krissy Hoese, and so many more!
CCS Staff & Board: Mikel, Mary, Sonya, Noel, Sherrie, Karen, Juli, Angie, Heather, Kacy, Rosalie, Tom & Brandon
Lana & Cory Gaskins
The Fords: Katie, Ken & Kenda
S&S Builders
Adrian Gerrits
Mike & Lynn Smith
MC's Auto & Truck Repair
Mary & Mike Kindt
Laura Chapman of Alla Lala Gluten Free Baking
Powder River Construction & TORC Energy
Lula Belle's
AND EVERYONE that donated auction items, volunteered, attended, spread the word, and have been by our side year after year!