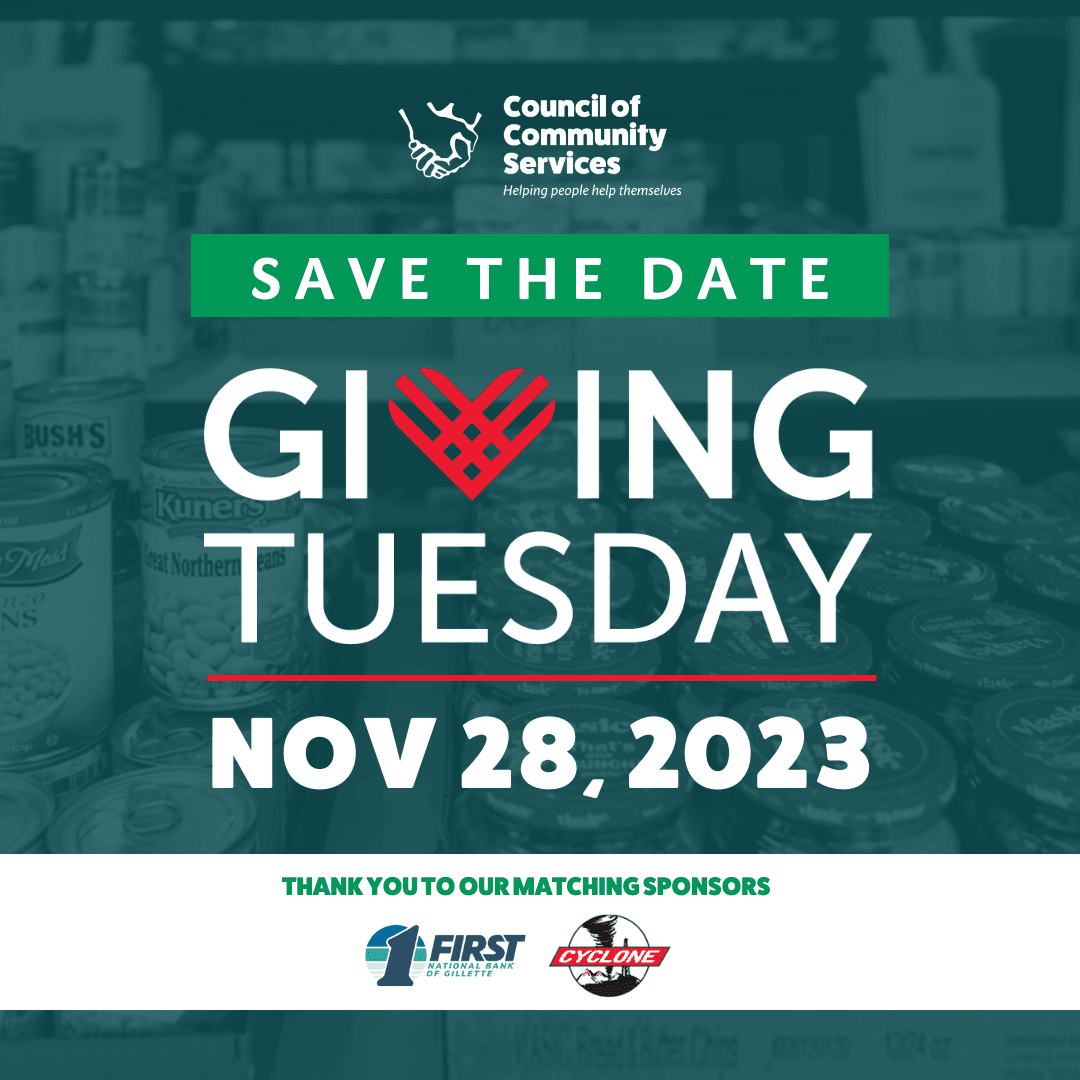 November is a time of reflection, culminating in Thanksgiving. For nonprofits across the country, it is also the beginning of our Annual Appeal fundraiser. This year's Council of Community Services Annual Appeal goal is $85,000. Our Annual Appeal includes opportunities to give through November through December 31st, including Giving Tuesday on November 28th.
CCS is rallying the community to come together and support our work on homelessness and hunger in Campbell County. It's an opportunity to make a real difference in the lives of our fellow community members.
Annual Appeal Goal
Our total goal this season is $85,000. We hope to raise $16,000 on Giving Tuesday. With the generous support of matching donations from Cyclone Drilling and First National Bank, every contribution made on Tuesday November 28th will go twice as far.
A Community in Need
Campbell County, known for our resilient spirit and strong community bonds, is currently facing several challenges that require immediate attention. Rising healthcare costs, a lack of affordable housing options, and limited access to essential services are just a few of the pressing issues affecting the lives of our neighbors. Inflation in Wyoming is at its highest rate since 1981, with the northeast region having the highest inflation rate in the state. Over 14% of children and adults over the age 65 are living below the poverty line in Campbell County. For those living paycheck to paycheck, any number of life events can push them into homelessness or make them unable to afford basic necessities.
Now through December 31st, you can donate online at or via check to Council of Community Services (114 S 4-J Road, Gillette, WY 82716). Every dollar you give helps out a low-income family in need in our community. For $20, you could feed a family for a month. For $25, you can help provide a bed, shower, and food for someone at our shelter. For $100, you can help someone get important prescriptions or medical care.
As a reminder, 100% of all donations we receive stay right here in Campbell County. Know that your contribution will help your struggling neighbors, friends, and community members that you may see everyday.